Welcome to the top restaurant in Allgäu
Gourmets welcome
Regional and traditional – and also with a good portion of sophistication and international influence. That's how we inspire the guests of our restaurant in Allgäu. It goes without saying that our dedicated kitchen team makes almost everything from scratch, whether excellent game dishes, homemade pasta or crispy bread. Grandma Gerti enhances the fine cuisine in the Hanusel Hof with fresh herbs from her large herb garden. Wolfram is a passionate host in the restaurant and welcomes almost every guest personally. By the way, if you're looking for a wine recommendation, then be sure to ask Wolfram - he's and expert and has carefully selected the more than 350 wines in our wine cellar. 
We wish you delightful culinary hours!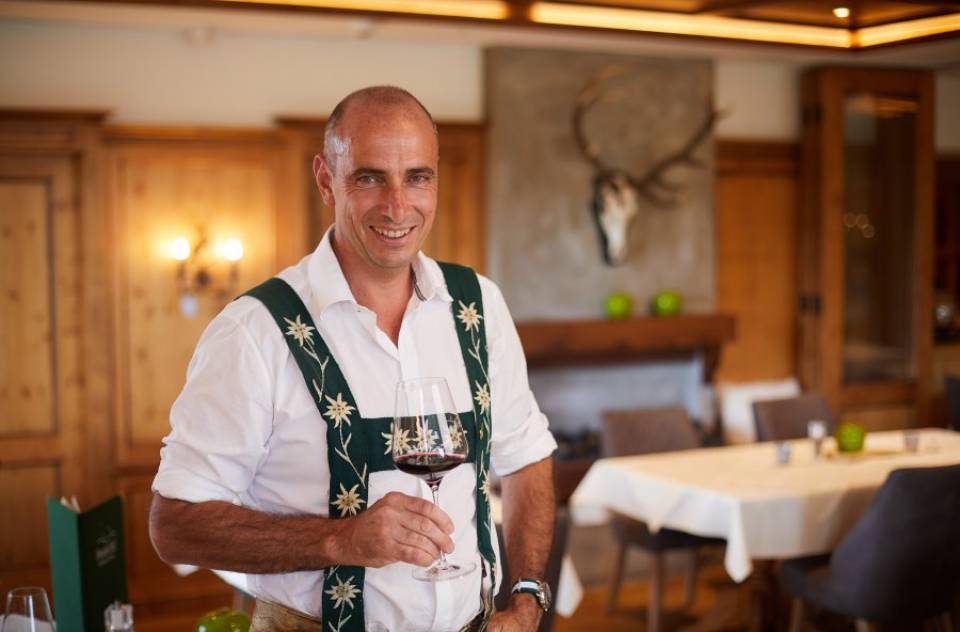 "We are proud of our Hanusel Hof.
I hope you can feel why in every moment."
- Wolfram Rainalter -


Opening hours
Open daily all year round, except on Dec 24 (Christmas Eve) – this evening is important to us and we spend it with our family
Warm dishes from 12:00 – 9:00 pm
From 2:00 pm to 6:00 pm,  we have a menu with small cold and warm dishes
Opening hours & menu
For real connoisseurs
We kindly ask external guests to reserve a table: Our service team will be happy to  take your call at +49 8378 9200-11
What's on the menu?
Two changing 4-course menus every day with 3 main courses to choose from (fish, meat, vegetarian) with a large salad buffet
Additional varying seasonal menu and our menu with the "Hanusel Classics"
Highlights in the restaurant
Fresh products prepared à la minute
Game meat from our own hunt
Trout and char from our own pond
350 wines
Our restaurant in Allgäu is listed in the Guide Michelin
Regional products in the Hanusel Hof in Weitnau-Hellengerst
From here, of course!
The highest quality and freshness of the ingredients – you can taste it in our excellent restaurant in the heart of Allgäu. All of our products are regionally sourced if possible, and as a native family we are proud of that fact. 
Our venison specialties are hunted by Frank Rainalter in the Weitnauer Tal (valley). We breed stream trout, rainbow trout and char ourselves in our pond at the the Mühlbach stream and prepare them fresh for our guests. A portion of our beef is from Allgäu "Braunvieh" - an almost extinct breed - from our own rearing in certified organic quality. The cattle have their green oasis on the pastures just behind the golf course. We obtain free-range eggs, Allgäu cheese and natural yoghurt, honey from the Weitnauer Tal, bread and more from regional suppliers. Food is valuable and that is why it is treated with respect in the Hanusel Hof kitchen and processed with a great deal of love for the culinary arts.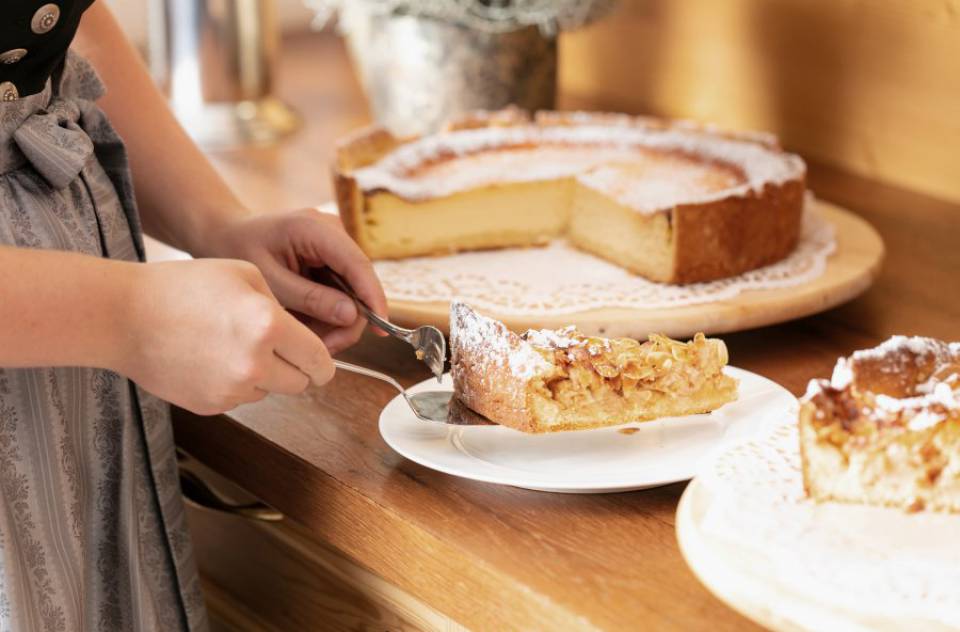 From our family kitchen
Mama Gerti appreciates the power of herbs. She cultivates a diverse herb garden of which the kitchen team likes to make use.
Gerti no longer bakes herself, but she shows the kitchen staff how to make her heavenly cheesecake like she would. 
Restaurant ambience
Typically cozy
Here in Allgäu, we have a stong character,  that is why we have given each of our 5 dining rooms its own character. Whether a cozy farmhouse parlour with a traditional tiled stove and wood-panelled walls, the adjoining sun parlor with a panoramic view or the elegant hunting room with one or two hunting trophies and an open fireplace – all our dining rooms radiate peace and tranquillity.
In summer we also invite you to our spacious sun terrace with lounge area – and to the wonderful view of our Allgäu landscape.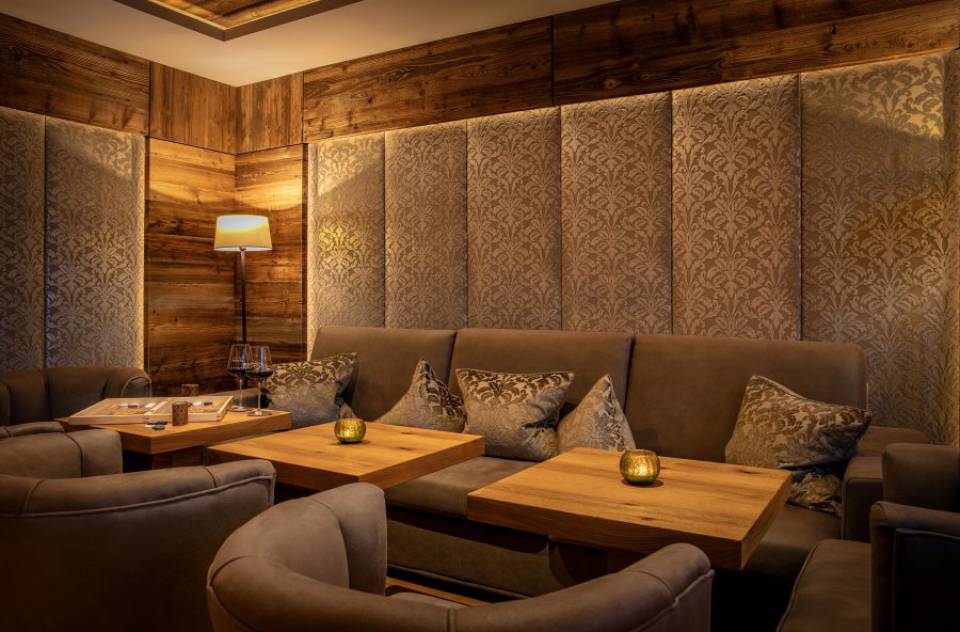 Hotel bar & Hanusel Lounge
Fine wines, excellent whiskies, fruity cocktails or a tasty Allgäu beer?
In the comfortable ambience of our modern Hanusel Lounge we will be happy to serve you your favorite drink from our bar. In winter, the fireplace adds an extra cozy touch. 
Our hotel bar and the Hanusel Lounge are open daily until 1:00 am.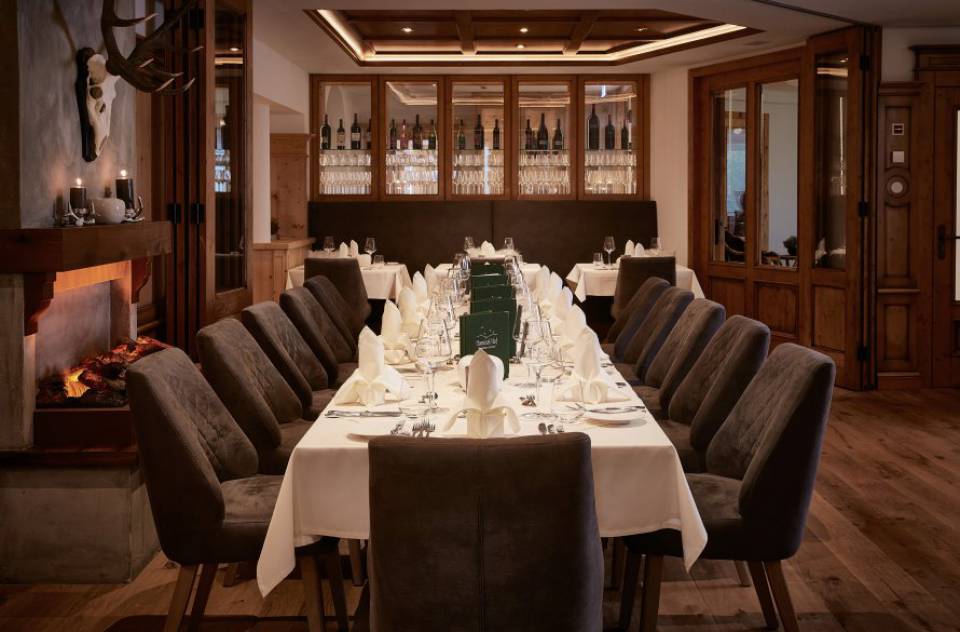 Enjoy culinary delights after golfing
We love to celebrate a play well of golf in Allgäu with a good meal in our restaurant.  Sometimes we feel like a snack, sometimes one of our daily changing menus. 
We recommend you reserve a table in the restaurant:
Telephone: +49 8378 9200-11
Opening hours: 11:30 am -  9:00 Uhr
small menu in the afternoon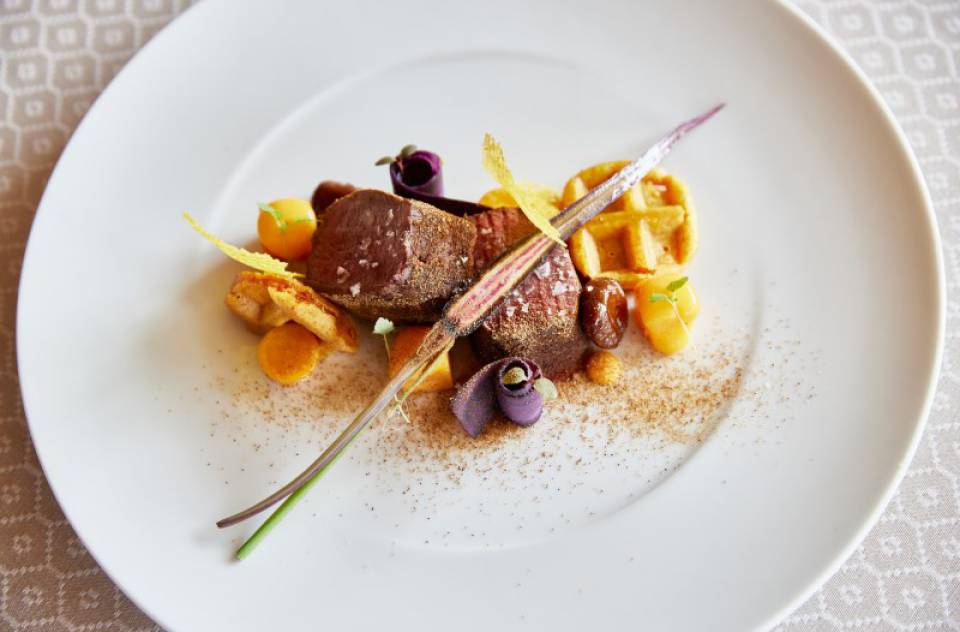 Tasty pleasure - restaurant voucher
You are looking for a special present? Create a Hanusel Hof voucher easily and conveniently online and print it out or send it directly. 
Gourmet holiday in idyllic Allgäu
Gourmet offers